Technology is really changing at a very fast rate making people to acquire the more sophisticated gadgets. There has also been an increase in the number of people who need repair of their gadgets in cases whereby either the screen is not working or something is just wrong with the device. When this happens, you have to ensure that you choose the appropriate local repairer to whom you can trust with the handling of your device.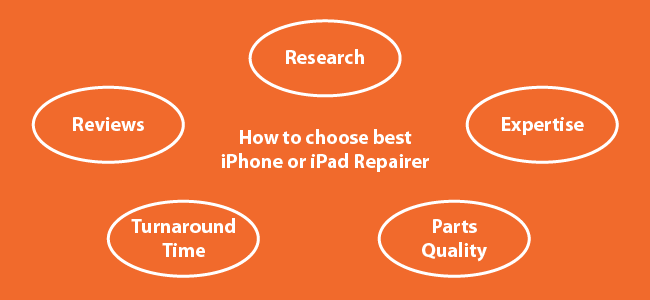 What are the main services that you can get for your iPhone or iPad repair?
In order for an individual to get the appropriate service, they have to ensure that the business handling their gadget can offer an array of services such as LCD Screen replacement, Digitizer Touch Glass replacement, Battery replacement, WiFi repair and few other common issues in iPad.
Tips for choosing the best company for your iPhone or iPad repair!
Before giving out your gadget to just anyone, it's important to make sure that they are able to repair your device. Here is the checklist about choosing the right person or business for the services that you need.
Online (Search)
The first thing that an individual should do is to go online and compare the different companies that providing services such as iPhone & iPad repairs. Also compare prices is affordable or not before making any decision. (Experience or expertise is the most important key)
Expertise (Experience)
Just because the company indicated that it can do iPhone or iPad repairs doesn't mean that it has quality services. After all you want your device to work like a charm as before.
Parts Quality
Before you choose iPhone or iPad repairer you must ask about parts quality as this does affects to your device performance. Please make sure that parts they using is original, OEM or after market.
Turnaround Time
It is really important to have your device get repaired within certain time-frame depends on your urgency. Ask them how long does it take for iPhone or iPad repairs?
Reviews (Testimonials)
Check for some reviews of service provider. You can go to their website if there's some testimonial or visit their social profiles to make sure you are going to deal with right service provider.
Written By : Apple iPhone Repair Canberra (Best choice for your iPhone or iPad repairs in Canberra & Queanbeyan)
What you should know about iPhone or iPad repair service?